It was 6:55am on the West Coast—and I had somewhere to be at 7am. It was a teensy bit early for me.
My alarm went off, and in the span of three minutes I shuffled out of bed, sat at my desk, clicked a button, and entered into a virtual coffee shop. I heard the little ring of a bell—like I had opened an actual door at an actual business.
I was greeted by a room full of people. There was pleasant lofi hip-hop music playing in the background. It was like the entire experience had been curated—like everyone in this room had been there for an hour, and I just walked in.
A RescueTime Guided Focus Session was about to begin. It's the new, free, guided focus experience we've started here at RescueTime, in collaboration with our friends at Workfrom. And today was my first time trying it out.
It was 6:59am. I made it just in time.
At 7:00am sharp, a voice greeted us:
"Good morning, good morning! Welcome to the RescueTime Guided Focus Session." I recognized the voice as Erin, part of our customer success team at RescueTime.
"I see some familiar faces and some new ones, and I see some people have already stated their intention in the chat box."
My eyes flitted over to a little chat room on the side of the screen. People had written their day's goals in the chat box to share with the room. Someone was reviewing last quarter's sales figures. Another was grading papers for a high school history class. And multiple people were working on screenplays.
"I'm so glad to see you all here today! It's a great day to get some important work done. We're gonna go ahead and get started on our first sprint of the day. Good luck, and I'll see you in 25 minutes!"
Then she started a timer—25 minutes and counting. I watched peoples' eyes through their cameras. Screens flashed before their eyes as they opened word documents and spreadsheets. Gazes narrowed and focused. People were getting in the zone.
What was this place? And why did I suddenly have such an intense urge to get some work done?
I settled in to my work. I let the lofi hip-hop carry me to a place of light focus. I tried to stop looking at myself in my camera feed, like I've done in every Zoom meeting for the last three years. (That was the hard part. I even felt funny yawning.)
But the weirdest thing happened next. I started typing, and typing more. After a while I typed something I was proud of. Then I looked up and the timer said "1 minute left."
Time had flown by. And it had been, literally, 100% productive time. That never happens!
A beautiful tone that sounded like a wind chime played over the lofi hip-hop.
"Okay everybody! Good job! Time for our first five minute break. I urge you not to try to work through it—if you sit at a desk, get up and get moving. It's good for our brains! See you back here in five."
I should have stood up and stretched my legs. But I sat there, trying to break down what had just happened.
I think that, instantly, just by knowing that I was showing up to the same event, with the same purpose as other people, my brain did something I've been trying to make it do reliably for years: it decided that the work I was about to do was important.
My eyes stayed glued to the piece I was writing. My fingers didn't deviate from the keyboard. I was less likely to tab out of my application and open a game of chess, or YouTube, or one of those "healthy-unhealthy" minor distractions.
And it's a funny thing—no one could see my screen. I'd known these people for 25 minutes. Chloe from the UK didn't know whether I was working diligently or cheating on my work in front of everybody. But I wouldn't dare. I couldn't disappoint these people.
I marveled at the places people checked in from. Manchester. Warsaw. Valencia. Who knows what time it was in all those places? But something extraordinarily powerful brought us all together, live, in this moment. It was a really gorgeous thing.
I kept on the train. Focusing diligently for 25 minutes and resting after each sprint.
As an added bonus, when I added the Guided Focus Session to my calendar, the RescueTime Assistant automatically started a Focus Session, blocking distracting websites and apps while I worked. It was a seamless integration. (If you give a Guided Focus Session a try, add the Assistant to complete your experience. The RescueTime app, featuring the desktop Assistant, is available for download for Mac, Windows, iOS, and Android at rescuetime.com!)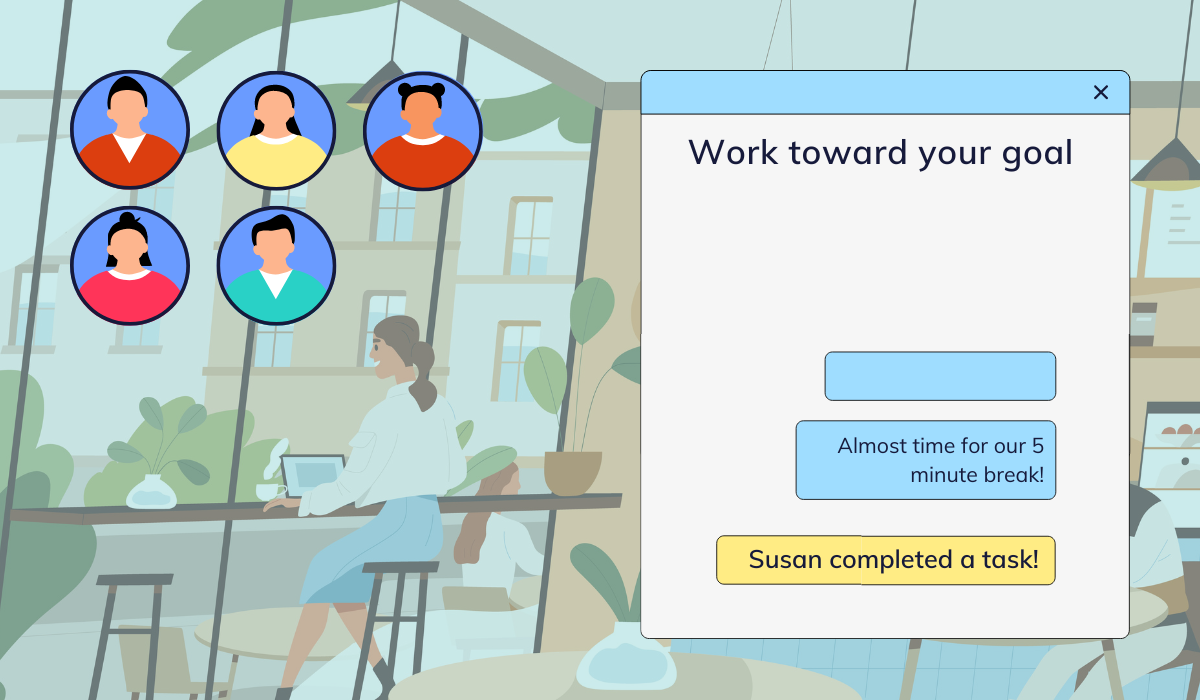 With about five minutes left of one of our sprints, the chat box silently updated: "🔥 Susan completed a task." The chat box lit up with people offering congratulations and words of encouragement. A supportive community even this early in the morning! After a second, the box updated again. "Susan is focusing on a new task."
Susan was no joke. I had some competition in this café. I would be lying if I said it didn't inspire me to earn a little fire emoji of my own.
Approximately one timer later, near the end of the session, the chat positively exploded with accomplishments and finished tasks. They were even timing the finishing of their tasks to the length of our session. Something about this process was working.
And I could feel it in myself too. There was some invisible force keeping my hands tied to the keyboard. Nothing physical was actually happening, obviously, and it wasn't a negative "peer pressure" type of feeling. After all, if I didn't like how it felt I could just turn the computer off and walk away.
It felt like being in the real world. A lot of our personal work journeys involve a lot of alone time. Insular experiences. Time spent inside our heads. Wearing headphones to block out the noise. But this transformed my fun little dreams into clear-headed intention.
At that moment I heard Erin say, "I like to think of these as 'live-action pomodoro.'" That really made it click for me.
We can all just set a kitchen timer to 25 minutes and try to work anytime (And you definitely should! It's a great method), but this was something entirely different. There was a lot more power behind this exercise.
Later I did some reading, and discovered this phenomenon has a name: intentional focusing.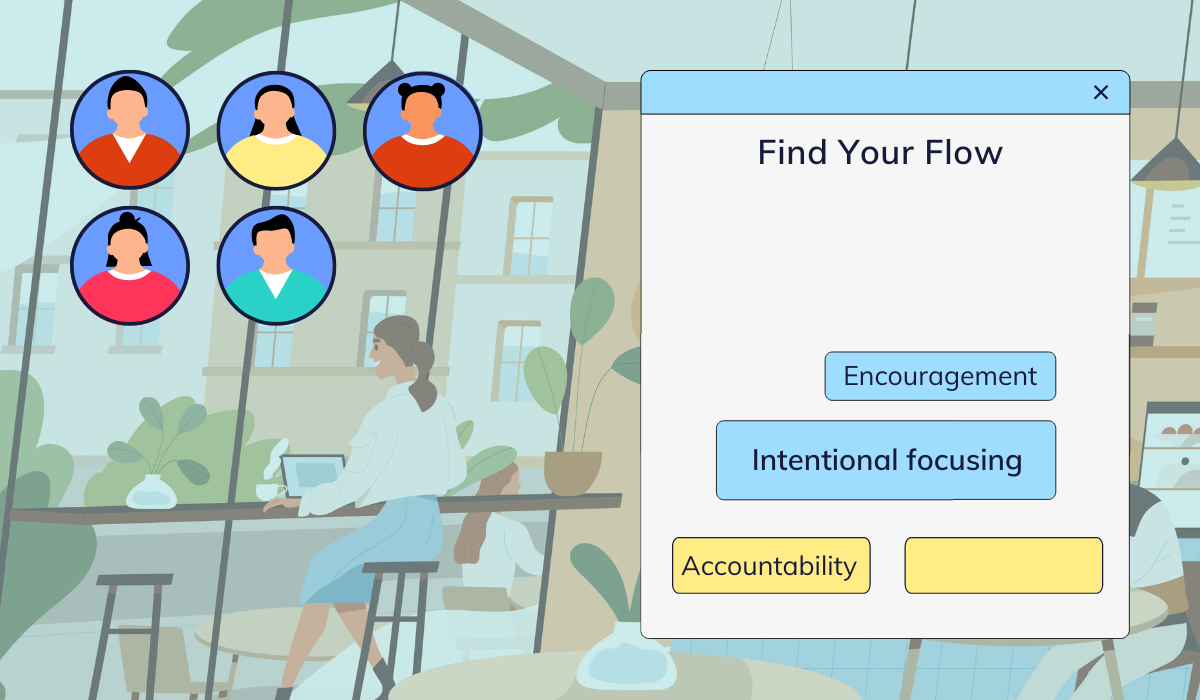 It's a specific type of focus that involves a clear intention directed at a task, and is helped by external factors like environment and mood.
You've probably experienced some version of it when you've hit the right confluence of external factors in work setup—you brew your favorite cup of coffee, and sit down at your desk nice and early in the morning—maybe playing your favorite music. That feeling you feel, where everything seems to be aligned with your purpose, really opens your mind and lets you zero in on what's important. It's step one on the path towards achieving a flow state.
Now, imagine you had a group of supportive, like-minded folks around you, working at the same time, keeping you honest. That's what RescueTime aims to cultivate with these Guided Focus Sessions.
And sitting down with a bunch of like-minded individuals united by that common motivation is a great way to kick yourself into the right mindset.
If this sounds like it would be beneficial for you, I seriously encourage you to check out the schedule at https://workfrom.com/@rescuetime. RescueTime hosts Guided Focus Sessions every Tuesday and Thursday at 9am CST, 12pm CST, and 4pm CST.
How much more can you do in an hour or two? Stop by and find out!
I'll see you there. Keep your camera on or Erin will yell at you.